FMA01 face milling head ,milling tools
FMA01 milling tools:, 1.Cost-effective and long life, 2.Cost-effective and long life, 3.Insert can fits holder very well -
details see: http://www.machineto.com/fma01-face-milling-head-milling-tools-10148101
| | | | |
| --- | --- | --- | --- |
| Place of Origin:Hunan China (Mainland) | Brand Name:SANT | Model Number:FMA01 | Material:Hard alloy |
| Diameter:50-315 | Type:Face Mill | Coating:Ni and Black | Color:black & silver |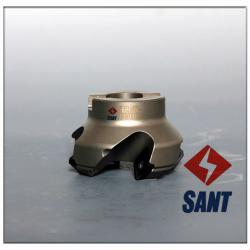 FMA01 face milling head ,milling tools :
1.Tool cutting edge angle: Kr=45 degree
2.Depth of cut: apmax=6.0
3.Applicable insert: SEET12T3(ZCCCT,SANDVIK brand insert)
4.Uses:surface milling for steel,alloy steel,stainless steel,cast iron,aluminium alloy,high-temperature alloy material.
5.Specificity:diameterφ50-φ315
large rake angle,more effectivity,can matching kinds of insert flute,large working area, inserts with wiper Edges can improve surface quality.
6.Can matching SANTVIK,ZCCCT brand inserts SEET12T3.
1. Raw Material Cutting :
2. Metal Process --Turning
3. Finishing Machining ---Milling
4. Inspection and Assembling
5. Laser Marking
6. Package
The building of our company and related toolholders :
SANT Precision Machinery Limited is a manufacturer specializing producing indexable cutting tools ,turning tools ,milling tools and u drill in China .Our main products include toolholders and face milling cutter, square shoulder cutter, chamfer cutter, profile milling cutter, end mill . ;Perfect surface finishing&semin-finishing are finished by ourselves .Rough Machining: Finished by our cooperation factories, who also supply service to ZCCCT.
Square shoulder Milling Tools covered from 12 to 40mm ,Double negative rake angle structure, both axial and radial direction, super thick insert has outstanding .The unique hole design makes the insert clamp more consolidated. .Speed, high efficiency, cutting a smooth .
Packaging Detail:in plastic box
Delivery Detail:25 days
Related Product for FMA01 face milling head ,milling tools