Reed board knitting/weaving/braiding machine
Reed board knitting/weaving/braiding machine, Durable, Different raw materials, Automatic, Energy-efficiency -
details see: http://www.machineto.com/reed-board-knitting-weaving-braiding-machine-10272225
| | | | |
| --- | --- | --- | --- |
| Place of Origin:China (Mainland) | Brand Name:SL Brand | Model Number:SL series | Product Name:Matress machine |
| Machine Type:Braiding Machine | Product:Reed,Cattail grass, straw, meyer sedge, palm etc. | Material Capabilities:Reed,Cattail grass, straw, meyer sedge, palm etc. | |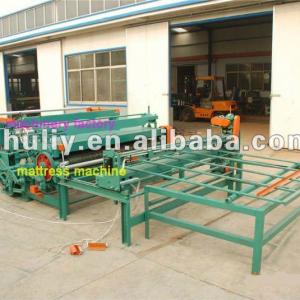 Reed board knitting/weaving/braiding machineThe following is some index of our Mattress machine for your reference:
Packaging & Delivery
Export Standards Wooden Case
Advantages:
Durable
Different raw materials
Automatic
Energy-Efficiency
Raw material
Reed,Cattail grass, straw, meyer sedge, palm etc.
Product description
1 Our machine is easy to master with CNC cutting. It has the automatic stop device on breaking, so it will not be defective in the normal work.
2 It takes an hour to produce grass plate 50m-80m. One machine can finish compression, sewing, weaving, traction and cutting.
3 The main components is of high-quality components: electric motors, transmission gears, bearings and other selected domestic and international brand-name products.
4 Professional quality assurance: professional production equipment, professional technology, production of professional staff, professional selection of steel and professional machinery parts, manufacture of specialized machinery products.
5 Capacity: 45-80 square meters
Specifications
Model

SLBCD-1

SLBCD-2

Dimension (mm)

length

Total :12000

Main machine: 3000, Material box: 9000

Width

3050

Height

1360

Weight (kg)

4600kg

4800kg

Power (kw)

Host part
2.2kw

3.0kw

Cutting part
1.5kw

2.2kw

Wound part

0.75kw

Frequency(time/min)

13times/min

Horizontal spacing

Can be adjusted below 100mm

Needle spacing

30mm ( it can be encrypted)

Mattress

Width (mm)

19800mm

Thickness(mm)

It can be adjusted 20-28mm

It can be adjusted

30-100mm
Contact information
Contact Person:Apple
Tel:0086-371-86660712
Fax:0086-371-86660713
Packaging Detail:Export standard wooden case
Delivery Detail:3 days after payment
Related Product for Reed board knitting/weaving/braiding machine