Mineral Water Treatment Equipment
Mineral Water Treatment Equipment / system, 1) Have CE and ISO9000 certification, 2) Steady capacity:5000L/H, 3) Good quality -
details see: https://www.machineto.com/mineral-water-treatment-equipment-10024807
| | | | |
| --- | --- | --- | --- |
| Processing:Filter,Reverse Osmosis | Condition:New | Place of Origin:Guangdong China (Mainland) | Brand Name:yuxiang |
| Model Number:RO | Processing Types:Water | Voltage:380V or according to regions | Power(W):3KW |
| Weight:ABT 500 KG | Dimension(L*W*H):3.5*1.5*14M | Certification:TUV, GMP | material:SS 316/304L |
| Type:water treatment | | | |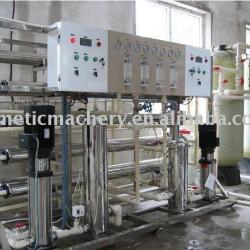 Detailed Product Description
Mineral Water Treatment Equipment / system
1)Have CE and ISO9000 certification
2)Steady capacity:5000L/H
3)Good quality
Mineral Water Treatment Equipment / system
The equipment adopts screw slip-joint. It mainly separates organic material,colloid, ultrasmall particle, bacterium. It has good effect on cleaning, sterilizing and concentrating big-molecule material.
The equipment has two types:ultrafilter and concentration.Its output is fronm 0.3m3/hour to 20m3/hour.
The water filter station consists of booster pump, pretreatment units (including quartz sand filter, active carbon filter and micropore
filter), high pressure pump, reverse osmosis (RO) membrane, conductivity meter, UV sterilizer and controls. All these units are mounted on the stainless steel frames for water filtration. The station is used to remove residual suspended solids and organic matter from water and kill bacteria and virus. The portable water is filtered and perfected in this way. The station is unattended and controlled by PLC. It automatically monitors high volume water filtration and long service life.
pure water equipment from angel China,we mainly in pure water industry for more than 15 years.it's the oldest factory in China.
quartz sand-active carbon-cation-RO membrane-PP .........
Technology instruction
1,It adopts current advanced RO system , the output water no kernel,pure.
2,this system adopts American HYDe company ESPA-8040,the rate of removed salt is 98%,recovery 50%-75%,and shapes the special character. The whole system can get rid of bacterial virus , heavy metallic irons. radioactive elements ,organic pollutant each is 99.99%,95%, 99%,95% ,the quality of water sweet ,clean. Also get rid of poison harmful material in source water , such as four chlorination carbons, benzenese, hydrocarbon, agrochemical, and lead, mercury ,chrome ...etc other radioactive element all Be tested a limit the following.
Name:
RO pure water equipment
Specification:

Model:
RO-1000I(5000L/H)
Capacity of pure water:
5000 L/H
General power:
12.5 KW
Electrical power:
AC 380V 25A 50Hz
RO membranes:
8040 9items(2 grades)
Multi-phases pump:
CDL8-16/5.5 KW 1 item
CDL4-22/4.0 KW 1 item
Beforehand filter:
4872 FRP 2 items
PP sediment membranes filter:
400×1000 1 item
Booster pump:
CHL16-30/3.0 KW 1 item
Active carbon filter:
500 kg
Quartz sand filter:
1500 kg
Functions:
RO membrane auto wash and manual wash
Pure water height water level auto stop,low water lever auto run Multi-levels pump no water protect All kinds of protect:no power,poor power,short circuit,larger electric current,creepage protect and so on.
Size (mm):
main machine:4000×800×1780

Beforehand filter:4000×2000×2300
Packaging Detail:wooden box
Delivery Detail:30 days after the contract
Related Product for Mineral Water Treatment Equipment