KLU32-800 Bored Pile Drilling Rig
Higher Efficiency and Lower Consumption, High Reliability and Flexibility, Multi-function -
details see: http://www.machineto.com/klu32-800-bored-pile-drilling-rig-10099033
| | | | |
| --- | --- | --- | --- |
| Place of Origin:Hunan China (Mainland) | Brand Name:T-WORKS | Model Number:KLU32-800 | Color:Blue or White |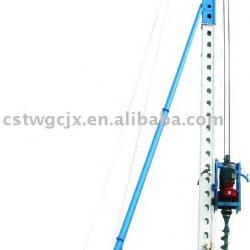 The bored pile drilling rig is introduced as below:
Advantages
1.Crawling mechanism and walking mechanism can be ex-changed.
2.The column can be adjusted from two sides to ensure verticality of the drilling hole.
3.Drilling and piling at the same time. Improves the efficiency of drilling holes and shortens the time of the project..
4. No noise, no vibration, no pollution and good quality of drilling holes.
5. Accuracy and convenience in position by up and down the column.
6.Operation systems like electronic system, hydraulic system, monitor system are all gathered in the operation room for comfortable and convenient operation..
Structure design
1. The column is foldable. The complete appliance can attached with towing device to be transported from different construction sites.
2. The power head system uses three-ring reducer mechanism, with great weight bearing capacity, and reliable in use.
3. The side adjustment mechanism can work independently to adjust the verticality of the column.
4. Spiral vane of the drilling rod uses high quality carbon steel 16Mn, which is hard-wearing, good in strength. The bit inlays carbide blades to drill faster than normal.
5. The main windlass uses reducer with greater reduction ratio, which is simple in structure but good in the rope-arranging work.
KLU WALKING TYPE
KLU32-800
walking way
Electro-hydraulic crawler
max drilling depth
32m
max drilling diameter
800mm
max output torque
65KN.m
rod rotated speed
18r/min
allowed lifting force
640KN
power of power head
55KW*2
reductor of power head
ZZSH480
leader size
630mm*10
leader height
37m
leader oriented center distance
600*102
leader incline range
front inclination 5°
back inclination 3°
length of crawler on the groud
4.3m
width of track plate
800mm
climbing ability of pile frame
< 4°
rotary
rotary way
rotary motor
rotary angle
≤360°
rotary speed
0-0.3r/min
main winch
single pulling force
7T
motor power
22KW
increasing speed
1.8/2.2/2.6
vice winch
single pulling force
3T
motor power
11KW
increasing speed
20m/min
overall dimension(L*W)
11.5m*6m
total weight(T)
78
Packaging Detail:plastic package after dismantling
Delivery Detail:20 days after the contract confirmed
Related Product for KLU32-800 Bored Pile Drilling Rig