meat ball making machine-pork ball forming machine-beef ball making machine-fish ball ,chicken ball and muttom ball forming
meatball forming machine, 1.high efficiency, 2.produce different sizes of meatballs -
details see: //www.machineto.com/meat-ball-making-machine-pork-ball-forming-machine-beef-ball-making-machine-fish-ball-chicken-ball-and-muttom-ball-forming-10046475
| | | | |
| --- | --- | --- | --- |
| Condition:New | Type:Meat Ball | Automatic Grade:Automatic | Production Capacity:300grain/ min |
| Place of Origin:China (Mainland) | Brand Name:Shenghui | Model Number:RW-10 | Voltage:220/ 380V |
| Power(W):750 | Dimension(L*W*H):680 * 380 * 1380 | Weight:85kg | Certification:CE |
| Warranty:ONE YEAR | | | |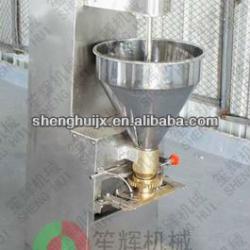 company website:http://en.shh28.com/
Product pictures
Parameters:
| | |
| --- | --- |
| Type | RW-10 |
| material | Stainless steel |
| weight | 85kg |
| Power | 750W |
| Voltage | 220/ 380V |
| Specification | 680 * 380 * 1380 |
| Packing | By standard export wooden case |
| Delivery Time | Within 7 days after receiving payment |
| Port of loading | Guangzhou/Shenzhen port |
| Guarantee | One year (for non-human factor malfunction) |
| MOQ | One set |
Description
1.The high-speed meatball forming machine is used to make different kinds of crispy, stretchy and malleable pork balls, fish balls, beef balls, chicken meatballs, meat balls, etc. One machine goes with three molds.
2. They are big, medium and small molds. Their diameters are as follows: 26mm, 22mm and 18mm.
3.The different molds make it possible to produce different sizes of meatballs. Meanwhile, it is very convenient and easy to exchange the three molds.
4.About the material, it is made of stainless steel. With the characteristic of easy-to-use handling, convenient cleaning, high efficiency, electricity saving and high output (300grain/ min), the high-speed meatball forming machine is suitable for food processing factory, catering industry and canteen.
Details
FAQ
1. What's best way of cleaning andmaintenance for cutting?
Answer:Because this series of machine is processing machine that exist oil, can use boiling water clean cutter , you can also add detergent properly to clean it.
Cutters maintenance: After cleaning the cutter, you should oil edible oil after drying it, which can make it lubricating and antioxidant.
2. What's the maintenance about machines?
Answer:Maintenance method: Machine should add lubricating oil aiming at chain, gear and bearing every half year, reduction gearbox should be added engine oil. If the machine was used frequently, we suggest that you can maintain it once every quarter. If the machine along with belt, conveyer belt, spring, you should check them whether loose every quarter, adjust or change them in time when were found loosely.
3.What can we do if the cutter is blunt oroxidized with yellow?
Answer:Cutter is blunt, you need to use the emery cutter or the abrasive stick to polish it.If the cutter is oxidized with yellow, use YiJieling or other scouring liquids to polish it ,and use edible oil for protection after cleaning.
4.How mang hours can the machinework continuously?
Answer:Machine can work 24hours continuously in general condition. But suggest open it after 4-5hours you should hold on, which provide certain protection for machine.
5.How to purchase meat cutting machine, why price difference exist so big?
Answer:Meat cutting machine can cut fresh meat, cooked meat ,frozen meet and bone .You should according to properties of meat and their output when buying machine. For some high price, equip with Magnetic control protection witch, cutter is convenient for cleaning, perfect cutting, excellent materials for blade etc.
6.Can the outing-mold of patty machine and ball forming machine order ?
Answer:Equip with appointed specifications for original configuration, Order other size mold within match size ,required to be add fare of mold , ball forming mold is ordered no more than 28MM
7.What's thecharacteristics of fourthawedmachine?
Answer:Recirculating Water Thawing Machine adopt the high pressure flowing water to thaw the material. Spraying Thawing Machine thaw material according to water circulation system and powerful spraying system. Water-cooling Pneumatic Thawing Machine through heating exchange of flowing water, Compression hot airand heating strip. Wind-Cooled Thaw Machine internally installed air-heater, achieving thawing effect through air flowing.
Why choose us:

1.10734 m*mfactory area, 12 years experience
2. Warranty date :one year, MOQ: one piece
3.ISO, CE & FDA certificated
4. Fast delivery and good service
5. All of our products have been strictly inspected before shipment.
6. Customers first, satisfying customers forever
Transactions notes
Trade description:
We provide EXW of product in first quote in most cases, not containing shipping freight and taxes.
After-sales description:
1.Warranty of all product is one year, while consumable items, such as blades, knife tackles, motors and so on are beyond guarantee range
2.We own professional engineering department and maintenance department, providing perfect after-service for customers.
3.We're always in your service to deal with any problem occurs on machine you purchased from us.
4.Any product sold from our company is attached with a warranty card and a product instruction.
Logistics description:
Products delivered from our factory are required to be packed in standard wooden cases or cartons.
Maintenance:
1.After cleaning the cutters and accessories touching food, don't forget to dry liquid on surface before you re-assemble them on machine.
2.Lubricate the axis of cutter with edible oil. Dismantle the blunt cutter and polishing it by abrasive stick.
3.Add oil into the reducing gear-box every half a year; lubricate bearings, chains, gears inside machine with oil every quarter.
Attentions:
1.Place machine on the flat ground; trundles of wheeled machine should be locked if there is need to move it.
2.Make sure the feeding mouth equipped on machine should not be blocked by foreign objects,
3.Connect the ground wire and suitable power box based on required voltage described on the labels.
4.Keep hands away from the feeding mouth and outlet of machine when it is operating.
5.Cut power first to stop running machine before dismantling and cleaning the parts.
6.Be careful when dismantling and cleaning the cutter and other sharp part
7.Circuitry part is forbidden to clean.
Trading Flow
Packing
Transportation
Payment and business card
About company
Production processes
Successful case
Welcome to visit our factory at any time!!
....
Packaging Detail:wooden case package for export. First plastic packaging and then wooden case packaging
Delivery Detail:7 days
Related Product for meat ball making machine-pork ball forming machine-beef ball making machine-fish ball ,chicken ball and muttom ball forming